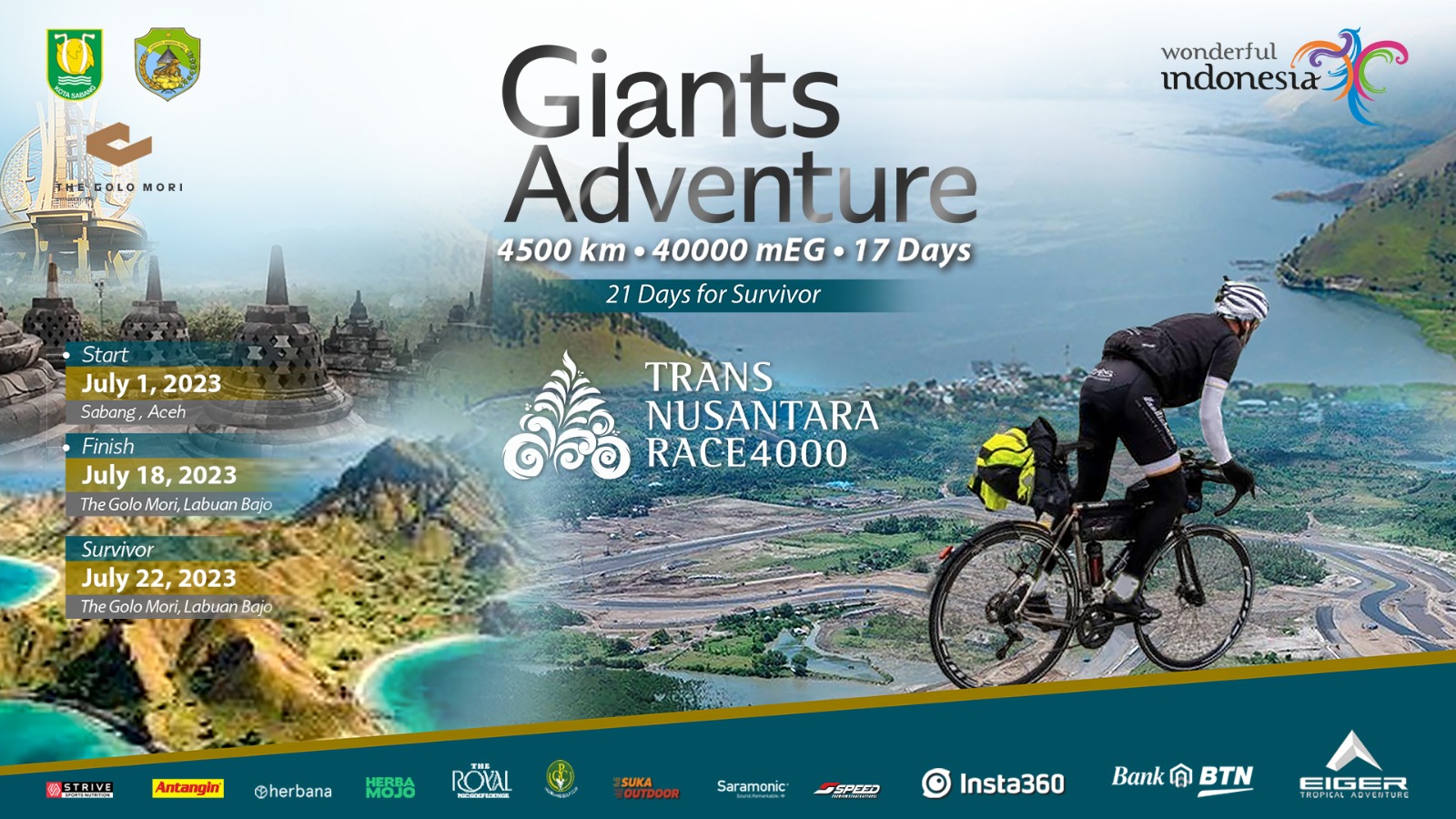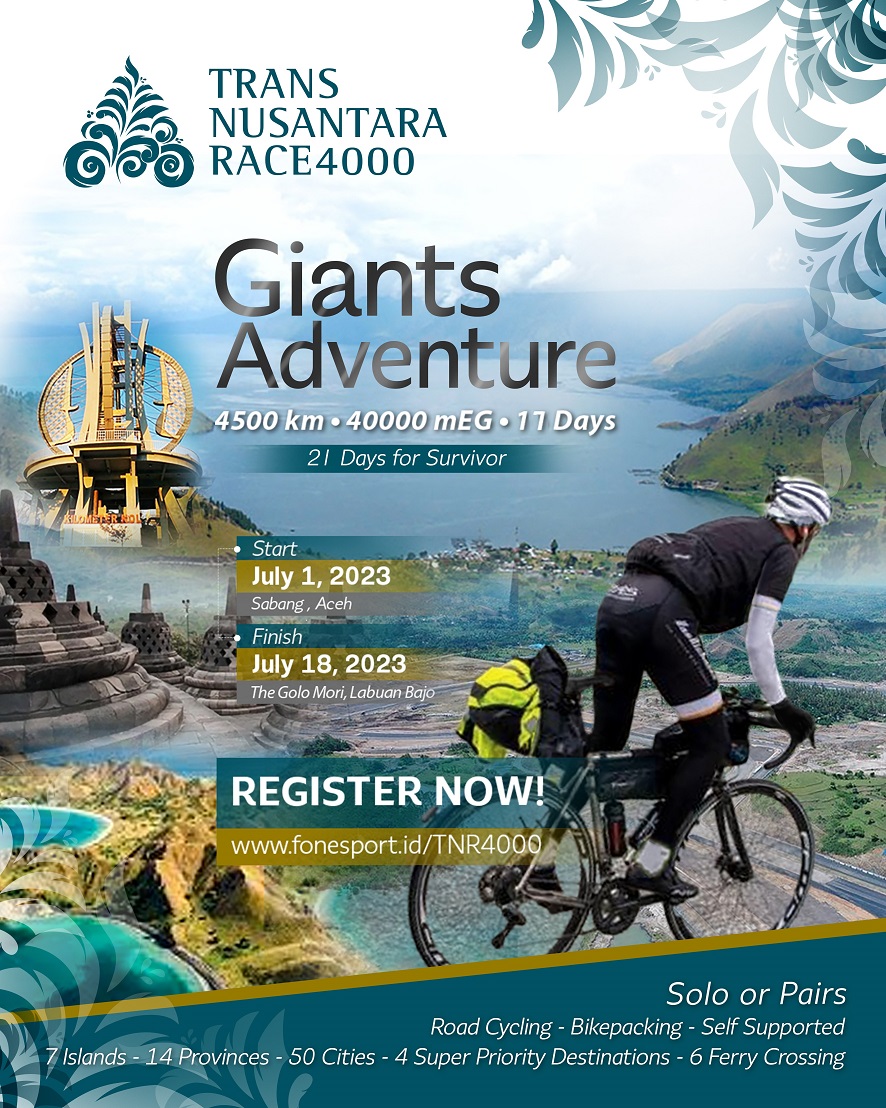 Trans Nusantara Race 4000 (2023)

About Race
---
Event Date:
1 July - 17 July 2023
Location:
The Golo Mori, Labuan Bajo, Flores, Indonesia
Trans Nusantara Race 4000 (TNR4000) 1st Edition atau TNRNo1 is a Bikepacking Ultra Cycling Road, from Tugu 0 km Indonesia Sabang, Aceh to The Golo Mori in Nusa Tenggara Timur (Flores Island). The Golo Mori has a distance 30km from Labuan Bajo City and next to Pulau Rinca (Taman National Komodo).

Rider will ride along the road and very little off road across 7 Islands (Sabang, Sumatera, Java, Bali, Lombok, Sumbawa, and Nusa Tenggara Timur/Flores), 14 Province and more than 50 City/Districts. Lake Toba in Sumatera, Borobudur in Middle of Java, Mandalika in West Nusa Tenggara and Labuan Bajo in East Nusa Tenggara distance >4800 km with Elevation Gain >40,000 meter which should be completed within 17 days to be a Finisher, and we appreciate the your giant adventure so much that we will be waiting 21 days to be a Survivor, both Finisher and Survivor will be listed in the Final Result.

Qualification : Any Ride >1000km in the past with Official Result

Riders should be ride with total self-support, which means rider will manage and arrange with their own cost where to sleep and re-supply. Place to sleep and re-supply should be accessible by public. Riders are not allowed to use arranged private house, vehicles or supported by friends. Any violation will be Disqualified.

Riders should report with Brevet Card that stamped in 5 Control Point with the appointed location, all that lost their Brevet Card or without stamp will be Disqualified. Riders will be given state of the art Live Tracking Device that can last 6 days on a single charge that will be monitored by Organizer 24 hours also accessible by public. Riders should be ride along the fixed route that is set by Organizer, riders that is deviated from this fixed route will be Penalized or even Disqualified.

Why TRANS NUSANTARA?
This route will passing across 4 of 5 super-priority destinations in Indonesia start from Sabang and finished in Tana Mori NTT in which the rider will be having total of 6 ferry crossing along of the 4800 km route.
1. Lake Toba in Sumatera
2. Borobudur in Middle of Java
3. Mandalika in West Nusa Tenggara
4. Labuan Bajo in East Nusa Tenggara
The only one super-priority destination that was not passing is Likupang since it is in the other island of Sulawesi.

Lake Toba
This lake is a large natural lake in North Sumatra Island, the caldera of a Supervulcano with surface elevation of about 900 meters (2,953 ft) and the lake stretches about 100km long and 30km wide. This is the largest lake in Indonesia and the largest volcanic lake in the WORLD!
Throughout the history, the Toba eruption occurred 73,700 years ago, estimated release material at least 2800 km3 and the flows of eruption destroyed an area of least 20,000 km2 (7,700 sq mi), making it the largest-known explosive volcanic eruption in the Quaternary (in the past 2.6 million years).

Borobudur
This 9th century Buddhist Temple in Magelang Regency is the World's largest Buddhist Temple in the WORLD. This temple consists of nine stacked platforms, six square and three circular, topped by a central dome. It is decorated with 2,672 relief panels and originally 504 Buddha statues. The central dome is surrounded by 72 Buddha statues, each seated inside a perforated stupa.
Borobudur has been the largest restoration project was undertaken between 1975 and 1982 by the Indonesian government and listed as a UNESCO World Heritage Site.
Borobudur is the largest one ranked with Bagan in Myanmar and Angkor Wat in Cambodia as one of the great archeological sites of Southeast Asia. Borobudur remains popular for pilgrimage, with Buddhists in Indonesia celebrating Vesak Day at the monument. Borobudur is Indonesia's single most visited tourist attraction

Mandalika
The Mandalika is one of super-destination that just opened Mandalika International Street Circuit that hosting Superbike World Championship and Grand Prix Motorcycle races in 2022.
Mandalika is 17 km straight from Lombok International Airport and approximately 50 km from the city centre of Mataram, the province's capital. The Mandalika Resort has developed in the area of about 1,200 hectares, include approx. 7.5 kilometer of white-sand beaches which has five major beaches in southern part of Lombok : Kuta Beach, Serenting Beach, Aan Cape, Keliuw Beach and Gerupuk Beach.

Labuan Bajo
The latest super-destination development in Indonesia is Tana Mori, located in the Golo Mori, Manggarai Barat, East Nusa Tenggara. This venue was prepared in 2023 for ASEAN Summit that has international facility standard, venue MICE and Wellness Center along 25 kilometer path.
Tana Mori located next to the beautiful Rinca Island and the Komodo National Park that is the World Unesco Herritage. This destination is the gateway to the Komodo National Park which holds stunning natural beauty and ancient animals that are worldwide. Starting from the endemic animals of the Komodo dragon on Rinca Island and Komodo Island, a row of exotic islands, underwater biodiversity, to fantastic beaches, you can find all of them by starting your journey in Labuan Bajo.
Labuan Bajo and Komodo National Park are an inseparable entity. The two are interconnected so that when you are in Labuan Bajo, you need to visit the Komodo National Park. To get there, you can use a ferry or fast boat. There are many departure options from morning to evening. Komodo National Park, which was registered as a UNESCO World Heritage Site in 1991, consists of Komodo Island, Rinca Island, Padar Island, and several other islands in the vicinity. The presence of the Komodo dragon (Varanus komodoensis), which is the world's largest lizard.